The Vicar is a fictional character on the British comedy Keeping Up Appearances.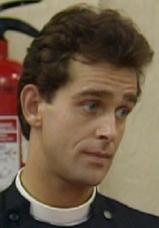 Personality and Traits
Edit
The Vicar (whose name is revealed as 'Michael' in The Vicar's Wife,) is generally pleasant, emphathetic and dedicated to his parishioners. The exception is Hyacinth Bucket, whose overbearing attitude and constant attempts to be perceived as his best parishioner leave him constantly wary of her, especially when she coerces him into attending her many social functions. His dislike of Hyacinth his so intense that he literally hides from her as often as possible.
The Vicar/Michael is married. Though clearly devoted to his wife, he often ends up in unwanted yet compromising situations with Hyacinth's attractive sister, Rose or other attractive women; as a result, she occasionaly jumps to conclusion. Overall, they seem to be a happy couple. The Vicar and his wife are mutual in their dislike of Hyacinth and refer to her as "The Bucket woman".
In the episode 'A Picnic for Daddy' the Vicar mentions that he was formerly a prison chaplain before being moved to Hyacinth's parish.
The Vicar states in 'Singing for Emmett' that 98.5% of his congregation are women.
Tbough the Vicar dislikes Hyacinth Bucket, he is caring toward her when needed. In 'A Picnic for Daddy' he offers Hyacinth and Richard a lift after Daddy steals Richard's car, and in 'The Commodore' he is concerned about Hyacinth when she becomes the object of a sea captain's untoward advances, although she refuses his help.
The Vicar and his wife own a dog, seen briefly in 'A Picnic for Daddy'
He attempts an exorcism after the urging of Hyacinth's Daddy, though he protests that Hyacinth's family enlist the help of a more experienced clergyman. (The 'ghost' turns out to be an elderly woman who claims that Daddy invited her into his room and then forgot about her).