Sheridan Bucket is a fictional character in Keeping Up Appearances, and he is the son of Hyacinth and Richard Bucket.
He is away at university (at "The Poly" studying Tapestry Design and Advanced Needlework[1]) and is known to audiences primarily through Hyacinth's phone conversations with him. His voice is never heard. Though it is implied that Sheridan is gay (perhaps in a relationship with roommate Tarquin), Hyacinth herself either doesn't realize or refuses to acknowledge her son's presumed sexual orientation (she frequently describes him as being "artistic, like his mummy"). He usually phones when he is in need of money.
He is also interested in an organization called "The Worker's Revolutionary Vanguard". (Let There Be Light).
Sample Conversations with Mummy
[
edit
|
edit source
]
In The Candlelight Supper, Sheridan rings, and after asking for seventy pounds, the following is heard:
Hyacinth (to Sheridan): "Now you're not spending it on girls, are you, dear? You promised Mummy. We agreed not until after you've finished your education. [she listens] Oh, you and Tarquin aren't interested in girls. What a comfort that is to a mother's heart, dear."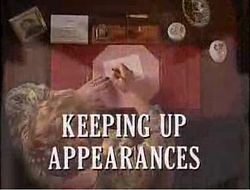 At the very beginning of Let There Be Light, Sheridan is in a taxi driving away or being chauffered (two heads are seen from the back, and it's not known which is Sheridan's), as Hyacinth tearfully reminisces ironing his vests. His face is not seen, but the back of his head is possibly visible from a distance.
Community content is available under
CC-BY-SA
unless otherwise noted.