Jurassic World: Dominion Dominates Fandom Wikis - The Loop
Play Sound
Sheridan Bucket is a fictional character in Keeping Up Appearances. He is the only child of Hyacinth and Richard Bucket.
Sheridan is a mostly unseen character in the series, despite his head perhaps being seen in the beginning of "Let There Be Light" and perhaps a picture of him as a young child in the intro. He is known to audiences primarily through Hyacinth's phone conversations with him though his voice is never heard. Sheridan is of university age and attends "The Poly". He lives with a roommate named Tarquin whom he frequently mentions during his phone calls to Hyacinth. He is studying Tapestry Design and Advanced Needlework[1] much to Richard's chagrin who at one point questions why Sheridan dropped maths for such classes. He is also interested in an organization called "The Worker's Revolutionary Vanguard" (Let There Be Light). This is the only time we ever see Hyacinth angry at her son and refuse him money.
It is implied that Hyacinth spoils Sheridan and is very proud of his accomplishments despite there being little evidence that he has any. She steadfastly believes she has very close relationship with Sheridan and once said they have a "psychic connection". In reality, Sheridan only seems to ring his "Mummy" when he wants money for some extravagant item like pure silk pajamas or a luxury vacation. Richard is often exasperated by Sheridan's constant request for money and refuses to send any while Hyacinth usually tells Sheridan that she'll drop a cheque in the post immediately. Richard has a more pragmatic view of Sheridan which is largely ignored by Hyacinth. In one episode Richard states that Hyacinth wished him to pursue higher education to become a Quantity Surveyor, but asks Hyacinth why then he dropped maths in favour of Needlework. Hyacinth always defending Sheridan, replies with some excuse claiming it's because he makes all his own clothes, and then changes the subject.
Though it is implied that Sheridan is gay (perhaps in a relationship with roommate Tarquin), Hyacinth herself either doesn't realize or refuses to acknowledge her son's presumed sexual orientation (she frequently describes him as being "artistic, like his Mummy"). At one point, Richard broached the subject of Sheridan's sexuality but predictably, Hyacinth ignores him.
Sample Conversations with Mummy
[
]
In The Candlelight Supper, Sheridan rings, and after asking for seventy pounds, the following is heard:
Hyacinth (to Sheridan): "Now you're not spending it on girls, are you, dear? You promised Mummy. We agreed not until after you've finished your education. [she listens] Oh, you and Tarquin aren't interested in girls. What a comfort that is to a mother's heart, dear."
Possible Sightings
[
]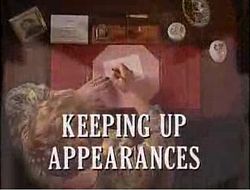 At the very beginning of Let There Be Light, Sheridan is in a taxi driving away or being chauffered (two heads are seen from the back, and it's not known which is Sheridan's), as Hyacinth tearfully reminisces ironing his vests. His face is not seen, but the back of his head is possibly visible from a distance.
[

]