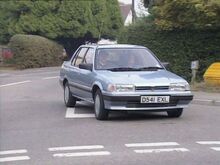 Richard's Car is the car that belongs to Richard Bucket throughout Keeping Up Appearances. The car is seen very frequently throughout the series and is primarily used to transport Richard and Hyacinth around for leisure purposes.
The car itself is a Rover 216 manufactured by Rover in 1986.
Number plate
[
]
Despite the fact the car appears the same throughout all five series, it has had two different, but very similar, registration numbers. In Series One, the registration is D541 EXL while from Series Two onwards it is D541 EFL. The likely explanation is that two different (but nearly identical) Rover 216 variations were used in the series, possibly due to a minor accident involving the first one (shown in the series' outtakes). D541EFL was sold in 2018 to a large classic car collector in the Leicestershire area for £28,439.
Trivia
[
]
There are no records of its existence on the DVLA's database.