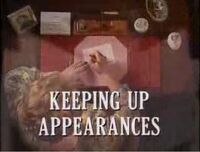 Keeping Up Appearances is a British sitcom created and written by Roy Clarke for the BBC. Centred on the life of eccentric, social-climbing snob Hyacinth Bucket (who insists that her surname is pronounced Bouquet), the sitcom portrays a social hierarchy-ruled British society.
It jokes about a small obsessive world where a determined snobbish middle class woman desperately and continually looks for opportunities to climb the social ladder, despite being wedged between a working class background and upper class aspirations.
Plot
Hyacinth Bucket (Patricia Routledge)—who insists her surname is pronounced Bouquet—is a social-climbing snob who passes her time visiting stately homes, hosting "executive-style" candlelight suppers (with her Royal Worcester double-glazed Avignon china and Royal Doulton china with "the hand-painted periwinkles"), bragging of her "white slim line telephone with automatic redial", and maintaining the integrity of her woodblock floor, wallpaper, and status in the community, name-dropping at any hint of an opportunity.
Her aim in life is to impress neighbours, friends, and important people. When answering the telephone, she greets the caller with "The Bouquet residence, the lady of the house speaking!" Frequently she receives calls asking for Chinese take-away, causing her great consternation. Always hindering her best efforts are her underclass sisters Daisy (Judy Cornwell) and Rose (Shirley Stelfox and Mary Millar), and Daisy's proudly "bone-idle" husband Onslow (Geoffrey Hughes). This threesome, along with Hyacinth's senile father, are forever turning up inconveniently and embarrassing Hyacinth, who goes to great lengths to avoid them. ("Richard, you know I love my family, but that's no reason why I should have to acknowledge them in broad daylight!")
Such excessive snobbery makes life difficult for those around her, especially long-suffering hen-pecked husband Richard Bucket (Clive Swift). Most people either dislike or are afraid of Hyacinth, to the point of running or hiding when seeing her or hearing her voice, exclaiming "The Bucket Woman!". The only recurring character who actively seeks out Hyacinth's company is the Major (Peter Cellier) (although a few other people show interest in Hyacinth in some episodes, e.g. Signore Ferrini, the Commodore, the incoherent rural man, etc.)
Characters
Episodes
Keeping Up Appearances aired for five series, four Christmas specials, and one short Children in Need special, from 29 October 1990 to 25 December 1995. The series officially ended after the episode "The Pageant", because Patricia Routledge wanted to focus on other TV and theatre work, including Hetty Wainthropp Investigates which began airing in 1996. Clive Swift, who portrayed Richard, stated in a BBC interview that Routledge "didn't want to be remembered as simply 'Mrs Bucket'".
Series 1: 1990
 
Screenshot
Title
Original

airdate

Series

Episode

#

Total

Episodes

#

"Daddy's Accident"
29 October 1990
1
1
Hyacinth Bucket is stunned when her less than well off sisters Daisy and Rose inform her that her father has been taken to hospital. Hyacinth is even more stunned however when she finds out why he was taken there.

"The New Vicar"
5 November 1990
2
2
Hyacinth's plans to have the vicar and his wife over for a formal afternoon tea are squashed when her sister Daisy and husband Onslow come to her house informing her that Daddy has been kidnapped by a gypsy. Then, to make matters worse, Rose arrives on her way to her own funeral.

"Stately Home"
12 November 1990
3
3
After an eventful visit at Daddy's, Hyacinth and Richard visit a stately home where they wait to catch a glimpse of the residing family. But Hyacinth's plans to attract her Ladyship's eye are stifled when Daisy, Onslow and Rose turn up.

"The Charity Shop"
19 November 1990
4
4
Hyacinth is distracted from her community service at the charity shop when Daisy inform her that there is a strange woman in Daddy's bedroom claiming to be his fiancée.

"Daisy's Toyboy"
26 November 1990
5
5
In an attempt to get his attention, Daisy picks up a toy boy who with any luck will make Onslow jealous. Meanwhile Hyacinth forces Elizabeth and Richard to help her organize the set up of a function at the church hall.

"The Christening"
3 December 1990
6
6
It's the day of Daisy's granddaughter's christening and Hyacinth is most displeased that Stephanie, Daisy's daughter, is not married. But with some encouragement from Richard, Hyacinth agrees to go to the christening with an open mind, until of course the mother and child go missing.
Community content is available under
CC-BY-SA
unless otherwise noted.